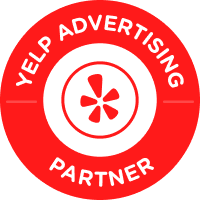 Urge Interactive is now a Yelp Advertising Partner!
We've joined hands with Yelp, a leader in business discovery and customer reviews, to take your brand visibility to the next level. Through this exclusive partnership, we gain access to unique resources and support. We use these to actively fine-tune your Yelp presence and manage your search advertising campaigns, forging stronger connections between you and your target audience.
Why Choose Yelp: Experience the Power of Strategic Advertising
Yelp is more than just a review site. It's a platform where businesses connect with customers:
Broad Reach: Yelp boasts 100MM unique monthly visitors, offering a vast audience for your business.
Purchase-Ready Users: An impressive 97% of Yelp visitors make a purchase after visiting the platform.
Unbranded Searches: 85% of searches on Yelp are unbranded, showing users are open to discovering new businesses.
Leverage Yelp's Impact with Urge Interactive
Yelp's users are not just browsing; they're ready to make a purchase:
Quick Conversion: 90% of Yelp users make a purchase from a business they found on Yelp within a week, with 51% making a purchase within a day.
Diverse Business Searches: Yelp users search for a wide range of businesses, from home and local services to automotive and health service providers.
Why Consumers Trust Yelp
Yelp holds a special place in the hearts of its users. They trust Yelp over other review sites like Google, Facebook, TripAdvisor, Open Table, and Thumbtack. No other review site matches Yelp's influence on final purchase decisions."
Yelp's Wide Reach: Desktop, Mobile, and Beyond
Extensive User Base: Yelp reaches an astounding 100MM monthly unique visitors.
Mobile-Friendly: Users conduct 80% of Yelp searches on a mobile device.
Search Integration: Partnered brands like Apple, Alexa, and Microsoft integrate Yelp listings into their search results, extending Yelp's reach beyond its own platform.
As a client, you will receive:
Professional Yelp campaign management
Strategic, ROI-driving Yelp campaigns built to meet the objectives of your business
Exclusive discounts and promotions
Bundled pricing, free upgrades, and ad credits that are only available through a Yelp Advertising Partner
Special access to products & features
Campaign-optimizing tools like video hosting, UTM tracking, API integration, and more to connect with Yelp users
Support from trained experts
A dedicated Yelp team that regularly certifies our agency's expertise and is available on-demand for custom assistance
Advanced tracking & reporting
Data-driven, tailored analyses that measure the metrics that matter most to you
At Urge Interactive, we're excited to help you capitalize on the positive impact of Yelp and our unique relationship with them. Ready to amplify your Yelp presence? Get in touch with us to get started!